Today we started out by visiting the downtown Oqunquit area…we finally found a parking spot but our time there was very limited and there was a gentleman walking around doing his job…ticketing cars who stayed too long.  What a thankless job on a really hot day…bless him! We had a great time walking around…even shopping in Celtic on Main!  She had some great items for sale but I kept being drawn to a bead called The Wave…it has OGT on the top of it so it represents Ogunquit…here is the image that I copied off their website: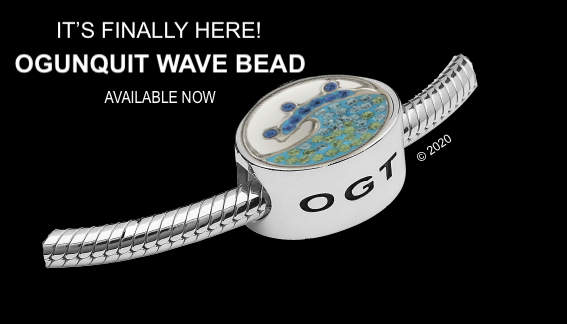 Here is their website if you want to check it out:  https://celticonmain.com/
We also visited Abacus though no purchases were made they do have some really unique gift ideas…check them out if you are in Ogunquit!  I found gift ideas I would like to get for my two older grandchildren and though I was not able to make a purchase here, I am going to Boothbay Harbor and they have a store up there too!  There are a couple images below from inside the store and around town but not the whole town…lots of restaurants, candy shops, coffee/tea shops, a wonderful bakery filled with delights…and I was told the best carrot cake ever! And of course…a mask wearing image of me that my sister took…and no, I am not the bear with the mask on!  🙂
I wanted to try to be at Old Orchard Beach at sunset because I love the sun setting behind/around the pier but we had time to kill so I took my sister to a few of my favorite beaches as we headed in that direction…including one of her favorite beaches…Wells Beach.  I love this one because you can often find surfers out there and occasionally one will even catch a decent wave! I had never been to the beach at high tide and was surprised to see it was coming up over the steps.  I do have images of the surfers…and a gentleman in a green kayak riding the waves…but I guess they didn't make the folder!    
If memory serves, our next stop was Vines Landing.  This is not a beach…it is a memorial that I happened upon when lost a few years ago.  It was slightly different when we stopped on this day but still a beautiful spot.  It is in Biddeford Pool, ME and it is also a great spot to see Woods Island Lighthouse.  You can also see the Stage Island Monument though I have seen it a number of times now, I did not know its name.  The Stage Island Monument was erected in 1825 as a day guide to what was then known as "Winter Harbor". The monument is 60 feet high and is still used today to assist mariners in keeping deep water passage in and out of the Pool. The 9 images posted at the end were taken in April, 2018…the first time I went…the bell and the plaques are still there but the rest has changed.  Work was being done at the time. Also, we found a heart shaped rock with a white line through it.  She took a shadow selfie of it about where her heart is… 
I have our next stop tagged as Fortune's Rock Beach but I am not sure I am correct about this…regardless…it is a beautiful beach that I love and this is where the surfer's were…and I am guessing I have combined images from two beach stops here…one of them was an area that I think my sister said was for residents only but no one chased us off…despite the image of me running in the sand!  
Next stop…Goose Rock's Beach…at least that is how I have it tagged.  These are the beaches I head for when I am in the area.  I question if it was Goose Rock's Beach because I never approached it from this side before and the last time I came I parked in a spot I was not sure I was supposed to and there was smoke and the smell of hot dogs…I walked down a short path and down below were a group of teens having a little cook out…I saw nothing when we were headed out that looked like that area…
And finally…off to Old Orchard Beach!  We found a parking spot though not the one I usually go to when I come to town.  The one we ended up in was close to a pub with some questionable clientele but we headed out and is wasn't completely dark when we headed back so…
Because we had time before sunset was going to arrive we decided to eat dinner first…for all the times visiting OOB I had never gone into a restaurant…a walk up stand…a fried dough at the amusement park…a slice of pizza at the infamous Lisa's…but never in a restaurant.  We were walking near one as we decided, checked out their menu and decided to go for it.  Everyone was properly spaced inside…which is where we ate…too hot outside…and a little more crowded out there.  Our restaurant of choice…Myst. The staff we interacted with was super friendly and the food was good…not great but I would eat there again.  
 Tummies once again comfortably full it was time to venture out toward sunset at the pier, the beach…peek at the Ferris Wheel and carousel…walk around town a bit.  Not everyone had masks on…we kept ours on a good bit of the time especially when walking around town.  I love this beach and the pier! Sorry…lots of pictures and some might be duplicates…my sister and I shared photos from both phones and my camera so nothing is in the order taken…and it is one of my most favorite places any time of the year! 
That ends our adventure and laugh filled day…and our last full day in Maine…though we go home tomorrow I think we turned that into a pretty full day too!  Be sure to come back for that final day to see what we did!  
You know the routine by now….come visit me at my page on Facebook, on Instagram and at my website.  If you find something you like on my blog and you don't find it for sale, please contact me.  I will be updating my Loving Life site removing a lot of what is for sale now and putting some new items up for sale, concentrating on note cards, magnets and prints.  
https://www.lovinglifewithkmgphotography.com
https://www.facebook.com/kmgtravelphotography
Instagram: lovinglifewithkmgphotography 
See you on the road! — Love you all…thanks for traveling with me!!!
"Traveling – it leaves you speechless, then turns you into a storyteller." – Ibn Battuta
(I have used this one before but it is such a good one!!)